THE BEST CAR DETAILING SERVICES LOUISVILLE, KY | CT DETAILING
PRESERVE VALUE IN THE THINGS YOU CARE ABOUT
Thank you for reading this post, don't forget to subscribe!
We average 5 Stars on Facebook, Google, and Yelp. Check out what our clients have to say about our ceramic coating and auto detailing services.
Zach Fitz
Cory and his team did an Amazing job Ceramic coating my Cadillac. I would recommend anyone that needs any coatings done to give CT detailing a call he takes pride in his work. You will not be disappointed.
Jay Redman
Cory coated my 2019 Dodge Ram 1500 Quad Cab with Ceramic Pro. That is a lot of territory to cover with "5" coats of this product. I was blown away with the results of his professional vehicle detailing skills. Cory is personable, treats you respectfully and is a good listener. If your vehicle needs detailing I highly recommend Cory. My truck looks better than it did when I bought it from the dealership.

Gianna Salvo
Ahhhmazing job detailing the interior and exterior of my car! This was the first time I ever had my car detailed and WOW it looks and smells great! He was able to buff out lots of little things that a normal car wash wasn't getting rid of. Definitely recommend.
Restore & Protect Your Vehicles Shine With CT-Detailing
GET A FREE ESTIMATE IN SECONDS!
Louisville Ceramic Coating
Certified installers, highly trained and ready to coat any cars old or new.
Louisville Complete Auto Detailing
Louisville Auto Exterior Detailing
Louisville Auto Interior Detailing
Louisville Headlight Restoration
Louisville Motorcycle Detailing
Louisville Boating Detailing
Louisville's Only True Professional Auto Detailing Shop!
Spotless shines, vivacious transformations
CT-Detailing offers fast, friendly & courteous auto detailing services. We use only the highest quality cleaning products and maintain a knowledgeable staff to answer your questions.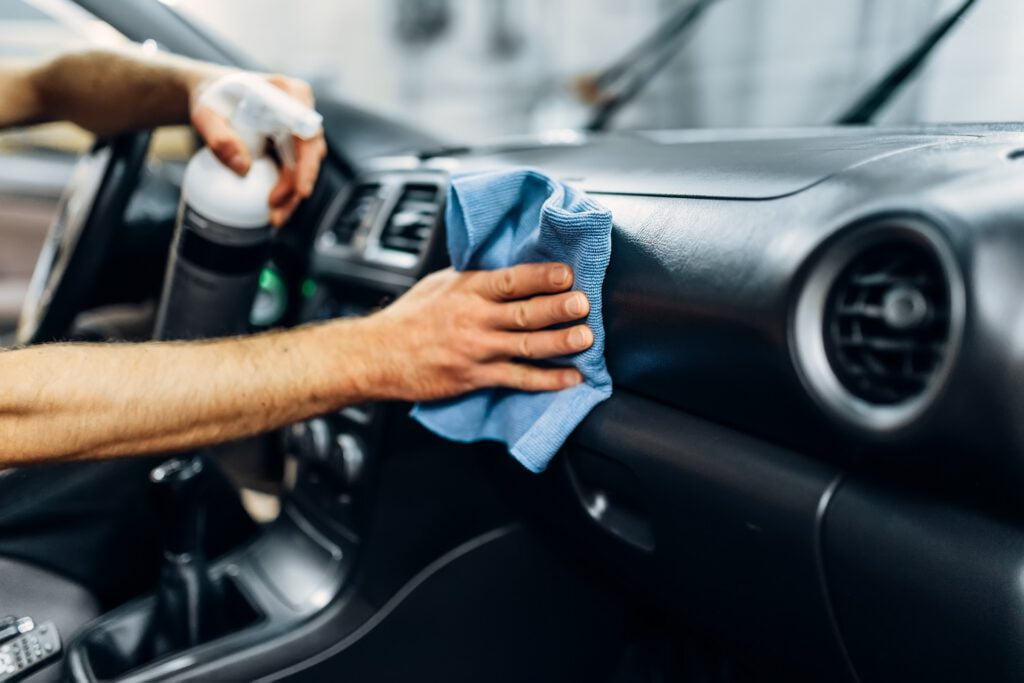 We have built our reputation on our commitment to providing the most superior quality service, which has earned us many valuable customers. When you hire our team for the detailing of your Car, Boat, or RV. you will be ecstatic with the end result. The only thing that beats our details is the price.  Owner and operator Cory Turley takes pride in his high quality services.
Professional Car Detailing in Louisville, KY
Louisville, KY is the epitome of American pastimes. Lying along the river and playing host to some of America's favorite sporting events, Louisville is everything that Kentucky stands for. With all of the fun surrounding you, your ride needs to feel just as fantastic as you do. Your car needs love, and we can provide everything it deserves with our car detailing in Louisville, KY.
At CT-Detailing, we guarantee top notch Louisville car detailing services: ceramic coating, complete auto detailing, exterior detailing, interior detailing provided by the most highly qualified and highly trained professionals that the Louisville car detailing industry has to offer. We have many years of experience in the field and, in that time, we have worked with every type of vehicle you can imagine. We provide fast service, but we never faulter on the quality. Our Louisville car detailing professionals love what they do, and it really shows in the amazing looks we produce. We are your go-to resource for every service you require related to car detailing in Louisville, KY. Whatever you need, we're there to help you.
Interior and Exterior Auto Detailing in Louisville, KY
Many people don't realize it, but there are actually a ton of components that go into keeping your vehicle looking its absolute best. When it comes to automobile detailing in Louisville, KY, we guarantee that your car will look completely brand new from top to bottom, inside to outside by the time we're finished. We provide detailing for both the interior and exterior of the car to ensure that your vehicle looks great all over. It's so much easier to have fun driving your car around when it isn't covered in dust and grime inside and out. Our auto detailing in Louisville ensures that you'll be totally comfortable as your ride around.
For your car's interior detailing service at CT-Detailing, we provide numerous services such as vacuuming, leather seat cleaning and conditioning, glass cleaning, and much more. Whatever service you need, we have it ready for you. It can be hard to find the time to keep up with your own car details in Louisville, KY and it is especially difficult to treat the interior with the love and care that it needs. You get it, toss your belongings into the back seat, and head off. No one wants to waste their free time cleaning, so we will take care of doing it for you.
Likewise, we know very well that your vehicle needs to look great no matter what is going on. Good quality, full car detailing in Louisville, KY can be difficult to find, which is why we provide Louisville car detailing services to help. You'll think that you're getting a brand new car after we get our highly trained hands on it. For your car's exterior detailing service, we provide washing, wax painting, shining, and degreasing services to give it an overall fresh look.
When you call us, you can sign up for either our interior or exterior auto detailing package, or you can get our complete auto detail for a brand new look inside and out. Our complete auto detailing in Louisville, KY is a top choice among many of our customers to fully rejuvenate the vehicle and give it a new life. With the complete auto detail, we clean the body, undercarriage, tires, doors, windows, seats, carpets, and any other cracks and crevices.
Find Us - Book Us & Ride in Style!
Car Detailing in Louisville Individualized for You
Despite our extensive experience in the field, we realize that you know your car better than anyone else ever could. Looking for professional car detailing in Louisville, KY where the experts are willing to listen to the customer is a tedious process. However, our entire team works with our customers on an individual basis to make sure you get everything you ever need.
When you give us a call, we will explain our various Louisville car detailing packages available and help you decide which services are best for you. We use the most advanced equipment for auto detailing in Louisville to ensure that your car is sparkling by the end.
Highest Quality Materials for Louisville Car Detailing
We never cut corners on quality just to save on cost because we know how important your vehicle is to you. Auto detailing in Louisville, KY comes with many different detailing material options, but we only work the best. Whether we are giving you a basic touch-up or a full automobile detailing in Louisville, KY, you can be assured that we have only top notch materials at our business.
By utilizing the highest quality materials available to us, we guarantee that the result is even better than you could imagine. Our car detailing services produce a look reminiscent of the day you got your car. We put our best efforts into every car detailing in Louisville so that your car always looks fresh and new and that you will feel good driving it around.
We strive to be the #1 auto detailing shop in Louisville, KY in terms of Customer Service. With every detail we strive to stun you with our quality of service and over delivery. We only employ professionally trained and expertly skilled detailing technicians. Rest assured you are in the best hands with our company.
If for any reason you aren't completely satisfied with our work, we will do everything in our power to resolve the issue or your money back.
Ceramic Pro in Louisville
One service that can be really hard to find is a reliable ceramic pro in Louisville. For that final touch to get your car looking as pristine as the day you bought it, our ceramic coating in Louisville, KY is exactly what you need. We work with a material that uses tiny, specifically engineered particles that link together and form a protective shell over the exterior of your vehicle. You'll never have to worry about paint chips or scratches ever again.
Additional Details in Louisville, KY
All of that being said, we provide so much more than auto detailing in Louisville, KY. We know that people are constantly on the go and have many different hobbies. Our customers own many different types of vehicles, so we work with them all. Our other services include boat, RV, and motorcycle detailing in Louisville. So, whether you are cruising along the river on your motorcycle or cruising on the river in your boat, our team is there for you.
Our boat detailing services include both interior and exterior cleaning to protect your boat from the rough waters and bright sun. We work with several different types of RV's to provide high quality interior detailing and exterior detailing. Finally, if you're ever in need of motorcycle detailing in Louisville, CT-Detailing is the way to go. Motorcycles are delicate and detailing requires finesse. We understand this and ensure a fresh and sparkly look every time.
Customer Satisfaction Guaranteed
We work with the most dedicated professionals and highest quality materials that auto detailing in Louisville, KY has to offer. With that, we guarantee customer satisfaction with every detailing job we provide. In fact, we are so confident in our work that we offer a 100% money back guarantee if you are ever unsatisfied and an issue cannot be resolved. You no longer need to shop around through mediocre competition when we can provide for all of your detailing needs.
We are a Better Business Bureau accredited business, striving to be the number one customer service-oriented automobile detailing in Louisville, KY. Our professionals receive rigorous training to ensure that they can get a job done quickly but handle every vehicle with care. You will not find a more reliable business for details in Louisville, KY than our company.
We provide fast and reliable car detailing services that are designed to meet all of your needs. We work with your schedule and offer in-shop auto detailing in Louisville, KY. So, you never need to worry about being stranded without a vehicle. We will always work with you to get you everything you need.
We mainly provide car detailing in Louisville, KY, Fairdale, KY, Valley Station, KY, Okolona, KY, Pleasure Ridge Park, KY. However, we understand that it's more than just our Louisville customers who need our help. So, if you happen to live in one of the surrounding areas, feel free to give us a call.
We love meeting new customers, and we want to be there for as many people as possible. No matter where you are, we guarantee the same quality every time. You are promised a satisfactory detailing job and we will work with your schedule to ensure that we can meet the needs of all of our customers.
Contact Us for Information About Car Detailing in Louisville
You can always reach us with a simple phone call or you can fill out a contact form on our website. Let us know your phone number, email, and a brief description of the car detailing in Louisville that you need, and we'll get back to you in no time. We can help you set up an appointment and let you know exactly what to expect. Customer satisfaction is our number one concern. Call us today to speak to our detailing experts.