Protect Your Paint For Years With A Ceramic Paint Coating
Don't spend another day with unprotected paint. Wax is a product of the past ceramic car coatings protect your car for years and add 10X more shine.
Our professional-grade ceramic coatings keep your car cleaner much longer, increase the lifespan of your paint, & add an unreal shine. Add a sacrificial layer before it's too late.
Get A Free Quote In Seconds!
Louisville Ceramic Coating
CERAMIC PRO SPORT
Commonly used on surfaces previously treated with CP 9H or CP Top Coat in order to refresh their hydrophobic and UV resistant properties but can also be used as a 6-12 months stand-alone coating.
Easy to Apply

Super Hydrophobic Effect

Self-cleaning Effect

Chemical Resistance

UV Resistance

Prevents Water Spotting

High Gloss Finish
Ceramic coating has become increasingly popular among car owners, but what makes it so special? A ceramic coating, such as those from Ceramic Pro, is a multi layerable, liquid product that is professionally installed on your vehicle, providing a durable glass barrier to the destructive hazards of nature. While a ceramic coating does not replace your existing clearcoat, it will reinforce the durability of your existing clearcoat as well as provide additional protection.  Our Ceramic Pro Sport is expertly applied by our trained technicians to the exterior of your vehicle. Once fully cured, your vehicle will have a glossy smooth finish with hydrophobic properties. What does this mean for you? You will be able to drive knowing that your vehicle has additional protection from dirt, debris, and other microscopic dangers that could harm your vehicle's clearcoat.
The Bronze Package
Consists of 1 layer of Ceramic Pro Top Coat applied over the vehicle's paint. This coating protects against light scratching and provides a beautiful glossy finish with a 2 year warranty. An additional protective layer is added to other areas including windshield and wheels.
1 Layer of Top Coat

1 Layer of Top Coat on plastics and wheels

1 Layer of Rain on windshield and front side windows
The Bronze package from Ceramic Pro is one of our popular packages. This package offers exterior protection to your vehicle against the dangers of nature. Daily, our vehicles are covered with dirt, debris, and other harmful pollutants. This is unavoidable. However, when you add the Ceramic Pro Bronze package, you are adding an extra layer of protection to your vehicle. Our installers will start with a layer of topcoat on the exterior of your vehicle. They will follow this up with a layer of topcoat that is applied to the plastics and the wheels. We will follow that up with a layer of Ceramic Pro Rain, (also called Glass) that will protect your windshield and your front side windows.
The Silver Package
Includes 1 layer of Ceramic Pro 9H applied over the vehicle's paint, providing protection from the elements and a 5 year warranty. An additional protective layer is added to other areas including windshield and wheels.
1 Layer of 9H
1 Layer of  Top Coat
1 Layer of 9H on plastics and wheels
1 Layer of Rain on windshield and front side windows
Our Silver Package is our most popular package.  Complete with a 5-year warranty, the Ceramic Pro Silver Package is a great package to provide you with the best protection, at an amazing price point. The Silver package includes one layer of Ceramic Pro 9H, the most durable ceramic coating on the market, and then we apply a layer of topcoat. Finally, Ceramic Pro Rain (also called Glass) is applied to the windshield and front side windows. The final result is a great added protection to vehicles' clear coat. The results will last and continue to impress for years when you call us today for your Ceramic Pro Coating Louisville KY! Don't wait!
The Gold Package
Consists of 4 layers of Ceramic Pro 9H applied to the vehicle's paint, providing permanent protection with a lifetime warranty. An additional layer of protection is added to exposed areas including windshield and wheels.
4 Layers of 9H

1 Extra layer on exposed areas

1 Layer of Top Coat

1 Layer of 9H on plastics and wheels

1 Layer of Rain on windshield and front side windows
As we are driving down the road, our cars are hit with a ton of various debris, fluids, and foreign materials that do not belong on the roads, let alone our cars. Next time you go for a drive, pay a bit closer attention to the cars that share the road with you. Some of these cars leak fluid. This fluid goes all over the road and is splashed by other cars driving. Sure, as the rains come down, it will wash away some of these fluids, but have you ever tried to completely remove oil from something with cold droplets of water? As the rains fall, it will mix with the automotive fluid residue left on the roadways and this will eventually splash up onto your vehicle. A ceramic coating will provide an additional barrier between this debris and protect your investment. The Gold Package is designed for someone who is looking for low maintenance, permanent protection for their vehicle. The Gold Package comes with a lifetime warranty. With our Louisville KY Ceramic Pro coating, you will have the strongest barrier against the hazards that can be thrown your way. With our low-maintenance aftercare instructions, you will be sure to enjoy the ceramic coating for years to come.
Ceramic Pro 9H
Forms a permanent bond with the surface and will not wash off or break down. Ceramic Pro 9H can only be removed by abrasion. It is a highly durable protective coating that protects your paintwork from damaging contaminants. 9H can be applied in multiple layers which means the thickness of the coating can be increased with additional layers allowing a thicker/harder coating with improved scratch resistance.
Scratch Resistance (Above 9H)
Super Hydrophobic Effect
Weather & UV Resistance
Thermal Resistance (up to 1200°C)
Anti-Graffiti
Advanced Chemical Resistance
Oxidation & Corrosion Resistant
High Gloss Finish
Ceramic Pro provides a permanent glass-like shield that works similar to an additional clear coat. Ceramic Pro has 3 times the hardness of clearcoat as well as self-cleaning properties. A professionally installed Ceramic Pro coating will act as a barrier against environmental dangers and damages. Daily, UV rays abuse our vehicles and can cause paint fading. When a Ceramic Pro coating is installed on your vehicle, this coating will help protect your paint against these UV rays. What this means for you is that your paint is going to remain brighter and newer looking for a longer period of time. Additionally, light surface scratches will be easily removed with a light polish.
Ceramic Pro Top Coat
Top Coat allows the surface to stay cleaner longer as dirt and grime will not stick to it. The super hydrophobic effect of the coating will cause water to bead up and roll of the surface along with any dirt and grime. Top Coat is usually applied over 9H in the layering process. Though not as durable as 9H, it can also be applied on its own. Top Coat also enhances gloss depth further on all painted surfaces for that wet look that is often hard to attain with synthetic waxes.
Super Hydrophobic Effect

Weather & UV Resistance

High Gloss Finish

Anti-Graffiti

Advanced Chemical Resistance

Oxidation & Corrosion Resistance
Ceramic coating is not just for show cars.  We provide ceramic coatings for show cars and daily drivers. Whether your car sees the sun 5 times a year or sits outside all year round, we have the solution when it comes to protecting your vehicle. Ceramic Pro is one of the hardest ceramic coatings on the market and will provide you with the additional protection that you are looking for. Oftentimes, people will hear about our Louisville KY Ceramic Pro and question if they need it or not. The answer is simple. Yes. If you value your car, you should absolutely get a ceramic coating.  Having a ceramic coating installed on your vehicle will help protect your vehicle against everyday dangers.
Ceramic Pro Textile
Is a reliable inorganic compound. Ceramic Pro Textile modifies the surface of real textile or suede so that when liquids come in contact, it forms beads that simply roll off keeping the textile completely dry. Note: For synthetic fabrics use 9H, Top Coat or Strong.
Excellent Durability

Super Hydrophobic Effect – 140⁰ of water beads

Excellent Wear Resistance

Repels Spills & Stains

Keeps Fibers Clean
Now that we have protected the exterior of your vehicle with the best ceramic coating Louisville KY has seen, let's not forget about the interior. With our Ceramic Pro Textile, your interior will receive additional protection. Unlike some of the other spray-on "protectants" that wear off in a matter of weeks, if not days, the Ceramic Pro Textile will last up to 18 months. Not only is Louisville Ceramic Pro Textile a liquid repellant, it will help stop wear and tear on your interior of your vehicle. For maximum effectiveness, Ceramic Pro Textile must be applied by a professionally trained Ceramic Pro installer, like those here at CT-Detailing. When you partner with CT-Detailing, you are taking the first step in extending the longevity of your vehicle! Give us a call today and let us show you what Ceramic Pro can do for you!
CERAMIC PRO LEATHER
Ceramic Pro Leather will preserve the factory look and feel as it slows down the aging process. The coating will prevent contaminants from staining the substrate.
PRESERVES LEATHER.
Excellent Durability

Easy to Clean

Super Hydrophobic Effect

Superior Wear Resistance

UV Resistance

Keeps Leather Soft

Preserves Factory Look & 
It is no secret that automotive leather is one of the most expensive interior upholstery products you can find. It is also not a secret that leather is one of the toughest of materials to keep looking new. That's where Ceramic Pro leather comes into play. Automotive leather is leather that has been treated and softened; designed to be luxurious to the touch. The same features that people often like when it comes to a leather interior are the same features that make it vulnerable to the dangers of Mother Nature. UV rays come bearing down through your windshield, causing fading, cracking, and other avoidable damages. Give us a call today and schedule your Louisville KY Ceramic Pro installation today, and together, we will protect your vehicle from further damages caused by environmental hazards. While we cannot prevent the toddler in the back seat from spilling their cup of juice, we can certainly help make sure to reduce the chance of stains! 
What is a Paint Correction?
Paint correction is a term that is now commonly used by both professional car detailers and car cleaning enthusiasts worldwide to describe the process of restoring and rejuvenating the paintwork of a vehicle, mostly through the elimination of surface imperfections, that dull, oxidize, or haze the surface by reflecting light off in various directions, therefore detracting from a true and proper, clean, sharp, reflection. These imperfections include things like swirl marks & fine scratches, bird dropping etching & acid rain etching, hologramming & buffer trails, and random isolated deep scratches (or RIDS).
What are Ceramic Coatings?
A Ceramic Coating is a liquid polymer that is applied by hand to the exterior of a vehicle. The coating chemically bonds with the vehicle's factory paint, creating a layer of protection.
A Ceramic Coating is a premium wax alternative. A Ceramic Coating creates a permanent or semi-permanent bond with a vehicle's paint, meaning that it does not wash away or break down and does not require repeated application every few months.
Do you want your car to look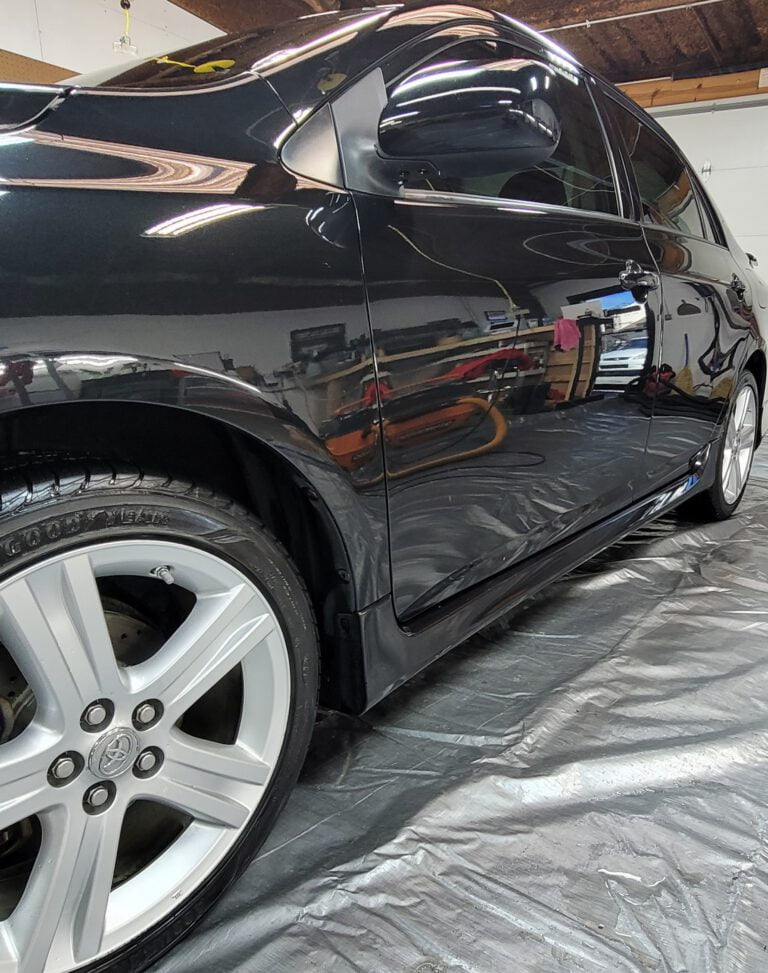 We average 5 Stars on Facebook, Google, and Yelp. Check out what our clients have to say about our ceramic coating and auto detailing services.

Owen Stinson
Had a great experience with CT detailing! Cory definitely took care of me and worked around my busy schedule to get me in. I had the paint corrected and the 6 month ceramic coating applied to my 2016 ram 1500. Very pleased with his work and would recommend him to anyone looking to have some detail work done for a very reasonable price!

Jordan Mossburg
Cory did an amazing 2 step paint correction and ceramic coating on my model 3. Ran into some issues and he went above and beyond to make sure it was done correctly. Highly recommended 👌 .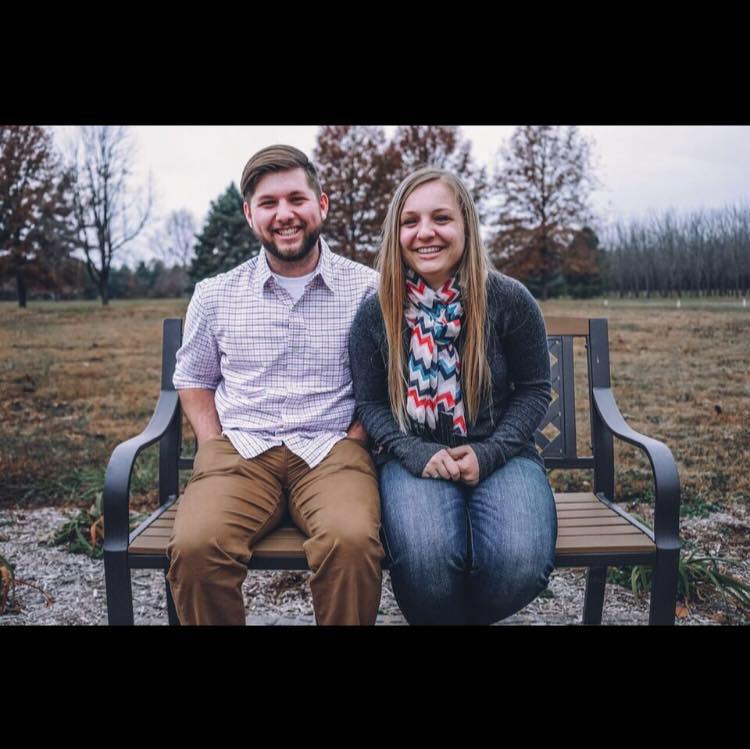 Zach Mills
Had Cory do paint correction and a ceramic coating on my car. Everything turned out great, the car is beautiful. Cory was awesome to work with and his communication was on point. His price was also hundreds of dollars cheaper than other estimates I had gotten - not to mention he had my car back way sooner than the other companies states they would have it back.
Top Ceramic Pro in Louisville, KY
Auto detailing in Louisville, KY is a necessary part of car maintenance. There is a lot of wear and tear that your vehicle deals with on a daily basis. Auto detailing in Louisville, KY not only makes your car look great, but it can also protect it in the long run. In order to keep your car in pristine condition, just like the day you bought it, there are several treatments it needs. Our interior and exterior detailing services are great, but if you really want the ultimate protection, ask us about our ceramic coating service.
We offer auto detailing in Louisville, KY to keep your car showroom new, but this isn't always enough to keep it running for years. One of our most popular services at CT-Detailing is our ceramic coating. This can be done as part of our exterior detailing package so that we can take care of your vehicle fully. Of course, you can also check out our complete auto detailing in Louisville, KY if you want to have your car fully taken care of inside and out.
Ceramic Coating Protects Your Car for Years to Come
Ceramic coating in Louisville, KY is extremely important for your car's wellbeing. Unfortunately, there is not much you can do to prevent paint chips, scratches, and scuffs without it. Ceramic coating is essential for maintaining your vehicle's exterior year-round. You can wash your car every day and continuously buff out the scratches, but it won't stop new ones from getting on your vehicle. Our ceramic coating lets you relax and not worry about these small damages that build up over time.
We use the best ceramic coating materials and hire the most highly skilled employees to apply professional ceramic coating in Louisville. This latest scientific advancement in vehicle maintenance uses small, specifically engineered particles that link together a form a protective outer layer to protect your car. This means less scratches and paint chips in your future and less maintenance overall. Not only will your car appreciate our auto detailing in Louisville, KY, but so will your wallet.
Our ceramic coating guarantees years of protection and a spotless appearance for your vehicle. Because we use the best ceramic coating materials available, our ceramic coating service is able to withstand heavy rainfall, mud, and any other environmental hazards that life wants to throw at it.
Exterior Auto Detailing in Louisville, KY
In addition to being the number one ceramic pro in Louisville, we also provide extensive auto detailing in Louisville, KY. Many of our customers choose our exterior detailing plan, which includes the ceramic coating as well as many other services. Some of these include washing, waxing, and polishing.
We guarantee customer satisfaction with every detailing service we provide. We even offer a money back guarantee since we are so confident in our work. Our current customers have been more than satisfied and so will you. Call us now to schedule a ceramic coating appointment at CT-Detailing.
Call Us Today For The Only Detail That Lasts For Years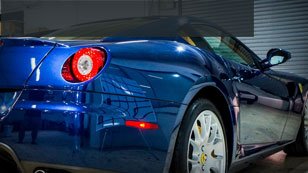 Keeping your car looking pristine like the day you bought it is something that every car lover aspires to do. Regular washing, hand waxing, hours of polishing, they all make a difference, but nothing ever seems to quite get the job done.
When you head out for a drive, your paintwork endures a torrid time, even if you never realize it. From accidental scratches and mud, to dry dirt and troublesome contaminants, blemishes and imperfections soon build up no matter how careful you are with your pride and joy.
A professionally applied ceramic coating is the latest scientifically developed way to protect your car's finish mile after mile.
Tiny specially engineered particles link together and form an outer layer that protects your paint job from everything that life throws at it.The perfect way to greatly increase your car's resistance to the troublesome scratches and chips that every discerning eye will find.
Years Of Protection
Whilst old-fashioned protective coatings, like wax, will wear off relatively quickly, a professional applied ceramic coating will last for years. By fusing to the outer surface, ceramic coatings are designed to withstand heavy rainfall and testing environmental conditions with ease.
Spotlessly Clean
Ceramic coatings also smooth the outer surface to make it far harder for dirt to cling to your paint job. With dirt now either sliding right off as you drive, or being removed easily with a single wipe once you get home, keeping your car spotless has never been easier.
With years of experience in applying professional grade finishes, our experts will be delighted to show you how we can give your car that showroom shine you have been looking for.
To discover just how Easy, Affordable & Effective our Ceramic Coating Detail is contact us today!